Got an unresponsive Elite series 2 or Bluetooth Xbox controller while trying to play Watch Dogs 2(PC)? I've got a quick and easy solution to get you up and running in no time. While we'll won't be hacking up a revolution DedSec style. Some computer hackery trickery would be required.
The obvious solution is to just plug in your controller via USB. But pfft… who wants to do that when you got the most expensive controller with Bluetooth capabilities like the Xbox One Elite series 2 right? Now that I've got that out of the way for those who want the easiest solution. Though the solution I'd be proposing doesn't get any simpler aside from downgrading to an 360 controller or waiting for Ubisoft to patch in the missing controller(s) support which I highly doubt they will do at this point. So enough with the rambling lol
Here are the file you'll need:
Step 1-Install ViGEmBus
pretty straight forward run and install.Follow the on screen instructions. 😛
Step 2- Run VDX_v1.14.3.0_x64_x86_GPDWinEdition
Simply connect your elite series 2 controller via Bluetooth. Afterwards depending on your version of windows either run VDX_x64.exe (64-bit) or VDX.exe (32-bit) Once open simply select "Xbox 360 controller" for Player 1. Click Connect, VDX will install the 360 controller drivers and prep the controller emulation.
Step 3- Run Watch Dogs 2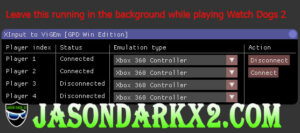 Once successfully enabled the controller emulation with VDX. You can now run Watch Dogs 2 from Uplay or Steam. While leaving VDX running in the background as it doesn't trigger any problems with EAC(Easy Anti-Cheat) and you can still play online.
Step 4- Disabling Easy Anti-cheat(Optional)
But if you do run into a problem with EAC you can simply disable it. In Steam use the following command "-eac-nop-loaded" in the game properties launch options. Whereas on Uplay you can simply add "-eac_launcher" command under game launch arguments found in the properties menu of watch Dogs 2. Once successfully disabled EAC you should see this error message:
Please Note Disabling EAC would prevent you from being able to play Watch dogs 2 online.
Well, that's it, easy peasy eh? If you got any question, feel free to leave a comment below and I'd do my best to answer them. Cheers!!
Tags:
Game Fixes
,
PC Games
,
Ubisoft