Published: 3 weeks ago by: JasonDarkX2
So, you got a WAMPServer running with a website ready to be put online. But you're scratching your head wondering how'd you put a computer running WAMPServer online? Well, you are in luck. Fol...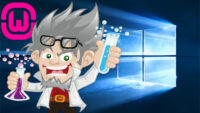 Published: 4 years ago by: JasonDarkX2
So you recently upgraded or bought a Windows 10 PC. Just to find out that you can't get a WampServer running and get back to work on your web project locally. But for those who have no idea wha...
Back to top