Published: 5 years ago by: JasonDarkX2
Ah yes, It's that time of year everybody, Apple Event just concluded and this year's Apple lineup will be as predictable as always. Yes, we're getting a new iPhone, iPad, Apple TV, and Pencil...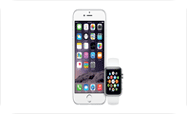 Published: 6 years ago by: JasonDarkX2
Ah well there you have the new IPhone and Apple watch companion to throw your money at for this year. It's no surprised that Apple announces a new I device(s) every year to keep consumers happy...
Back to top